Unforgettable Things To Do In Guatemala
I had always wanted to visit Guatemala. The coffee, the picturesque landscapes, the beautiful handwoven textiles, the ongoing Mayan culture… the list of fun things to do in Guatemala just goes on and on. And in 2019, I finally did.
I spent three weeks exploring this beautiful country, which is not nearly enough — you need at least 4 to 6 weeks to really see all the top places to visit in Guatemala. Partly, this is because the not-great transportation situation means that you'll be spending lots of long days on cramped shuttle buses in transit. However, if you have a short amount of time, check out this 2-week itinerary for Guatemala to best help you maximize your time.
The Absolute Best Things to Do in Guatemala
Visit the natural pools of Semuc Champey
If you've ever spent any time on Instagram or Pinterest, visiting Semuc Champey is undoubtedly one of your top things to do in Guatemala. It's popular for a reason:  the bloggers aren't lying. It's one of the most beautiful places I've been in my lifetime, and for me, the #1 must do in Guatemala.
That said, getting there is quite a hassle and had me questioning if it was worth it many times over. Even taking a direct tourist shuttle will take you upwards of 8 hours from Flores or Antigua, the two closest popular tourist destinations. Cobán is closer, but doesn't offer much to tourists.
You essentially have to spend two full days on a cramped bus in order to get to Lanquín. Once you're there, all that transit-induced rage will float away as you behold the most beautiful turquoise pools you can imagine. No filter needed, y'all: this is truly the best of Guatemala.
Where NOT to Stay: DO NOT stay at Zephyr Lodge, even if it comes highly recommended by others on the road. I got horrible food poisoning there, and I wasn't alone. At least 10 other travelers I spoke to had food poisoning there, and at separate times than I did — meaning it's likely an ongoing hygiene issue. I rarely ever get sick, so something was seriously amiss here.
Where to Stay Instead: I've heard great things about Hostal Vista Verde and it's actually owned by locals instead of expats who just want to force you to eat and drink at their overpriced, unhygienic restaurant (no I'm not bitter).
Visit the Mayan market in Chichicastenango
Mayan culture is alive and well in Guatemala, and nowhere is this more obvious than in Chichicastenango's twice weekly markets. Chichicastenango (mercifully abbreviated to Chichi) is one of the most popular market towns, as it is only a 2 hour bus ride from Antigua. It's a frequent choice for day trips and for tourists interested in culture it's one of the best things to do in Guatemala.
You can typically arrange for a roundtrip shuttle on Thursdays or Sundays, or you can take local transportation – a chicken bus – if you don't value your life are brave and don't mind being squished three to a seat while the driver swerves wildly around curves.
If you're short on time or don't want to deal with the hassle of public transit, you can go with a guided tour from Antigua, which also includes time at Lake Atitlan.
Seeing a Mayan market is one of the best ways to fully appreciate the craftsmanship and tradition that have been passed down from generation to generation. It's also a great way to peek into the life of locals who eke out a living by farming, weaving, collecting honey, and more.
Try learning a little Spanish before you go — English is not widely spoken here, as often, Spanish is already the second language of the Mayans living here — and be sure to bargain (respectfully, that is). If you want an authentic cultural experience, this is one of the top places to go in Guatemala.
I spent one night in Chichicastenango and was glad I did versus just doing a day trip – it was great to get off the tourist trail a bit, as most people don't stay overnight here.
We visited a small museum, Museo de Mascaras Ceremoniales, where we received a guided tour from the owner and taught about so many facets of Mayan life. Later, we had a meal with our next door neighbors at our Airbnb who were opening up a hotel/restaurant — a great experience with locals who rarely get to interact with visitors outside the market!
Climb Acatanenango and witness a live volcano erupting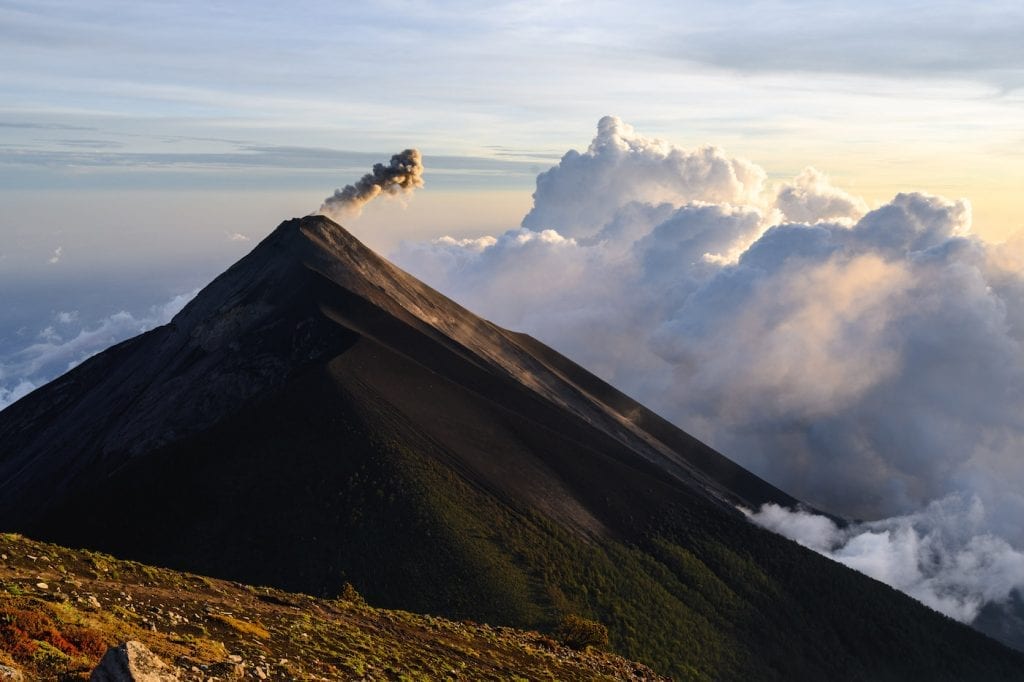 NOTE: Yes, Fuego is the volcano that erupted in June 2018, killing many people who live in the villages on its slopes. No one climbing Acatanenago was hurt, as far as I'm aware. Antigua and the area excluding the immediate area around Fuego volcano are safe and prepared for tourists, so don't let the volcano scare you away.
Climbing Acatenango is not for the faint of heart. To be honest, I didn't attempt it because I'm extremely prone to altitude sickness and have failed to climb mountains of similar height.
Everyone I spoke to who did the Acatanenango hike said it was one of the most amazing sights they've ever seen — and also that it was supremely difficult and very cold sleeping overnight there at the top. Research your guide wisely, as they can make or break your trip.
Many of my friends took tours that didn't equip them properly: not enough food, not enough layers, thin sleeping bags, and all sorts of other cut corners that made the trip a bit miserable. As a result, I strongly recommend pre-booking a tour that has a solid reputation.
Doing the research, I found that this Acatanenango tour to be positively reviewed – when I cross-checked the GYG reviews with Trip Advisor, I saw over 350 5-star reviews with no mentions of the issues that many other volcano hikes have (lack of food, lack of warm layers, etc. like I mentioned above.)
Take classes at a Spanish school
Guatemala is one of the cheapest places to learn Spanish. Prices vary wildly, so don't be afraid to ask around and get a good idea of what's on offer. Wondering where to go in Guatemala to learn Spanish? Antigua is definitely one of the prettiest cities in Central America, making it a popular spot to settle down for a few weeks and take Spanish lessons. It has the most Western restaurants and amenities as well due to the large expat community, making it pricier but perhaps a little more comfortable.
If you want a more local experience while you learn Spanish, Xela is well-known for being a Spanish language hub, and supposedly it's one of the cheapest and most interesting places in the country to learn the language. I didn't have a chance to visit Xela during my 3 weeks in Guatemala. San Pedro La Laguna is another popular destination for Spanish learners, and has a fun party scene and lake views to boot, truly giving you the best of Guatemala.
Where to Stay: If you really want the best language learning experience, I recommend doing a homestay — it's usually quite affordable, provides total immersion, and connects you with locals.
Kayak in a volcanic crater in Lake Atitlan
Lake Atitlan is simply stunning, and there's no better way to enjoy the serenity of the lake than by going for a kayak ride surrounded by water and volcanoes all around you.
The water tends to get really rough and choppy in the afternoons, and clouds and rain have a tendency of settling in after 3 PM. Make the most of your morning and go for a morning kayak, then stop by for a 5 quetzal (less than 1) fresh juice afterward!
If you don't have time for an individual trip to Atitlan, I recommend doing a guided full-day tour that leaves from Antigua, which includes a boat ride through the lake.
Where to Stay: I stayed at Casa Felipe for a week and enjoyed it just fine, although the beds are ridiculously hard. Better yet might be a cheap room at Playa Linda (check prices and availability here) or Cabaña del Arco (check prices and availability here) which are both quite affordable and have gorgeous lake views.
Climb the pyramids of Tikal
The ruins of Tikal are easily the most well-known of the Guatemala tourist attractions, and with good reason. Star Wars nerds will immediately recognize the lush jungle setting of Tikal. Tikal is a UNESCO world heritage site and is one of the largest sets of ruins in the former Mayan empire, and it's in remarkably good shape. Some of the pyramids you can climb; others, you can only gaze upon from afar due to the need to preserve them.
Where to Stay: I recommend staying in Flores for the most transportation and tour options. For those looking for a hostel, Casa de Gretel is the best-reviewed option (I personally stayed at Amigos and was not a big fan — too loud and the rooms were super stuffy). Check prices and availability at Casa de Gretel here.
For mid-range options, check out the affordable but adorable Hotel Isla de Flores, which has a rooftop pool with views of Lake Peten.